Academics

---
LITERACY
At Smith, students are guaranteed to meet with a teacher for a 20-minute small group reading lesson every single day. This is made possible by our literacy intervention team that "floods" into classrooms to teach small groups during literacy. If a student is not yet a proficient reader, we're committed to doing whatever it takes to get him or her there– this includes 40-120 minutes of a small group each day, depending on the unique needs of the child.
For our core literacy instruction, reading and writing are organized into units of study by genre (Smith's Literacy Scope and Sequence of Assessed Skills and Standards is posted below to preview). The units address rigorous, grade-level standards, skills, and strategies for reading and writing. Teachers use the DPS supported resource of EngageNY, in partnership with genre study texts, and level books for small group, guided reading instruction. In the primary grades (ECE-2nd), teachers also deliver explicit phonics instruction using the resource called FUNdations (in English classrooms) and Estrellita (in Spanish classrooms).
Sample of Smith's Literacy Scope and Sequence: 3rd and 4th Grades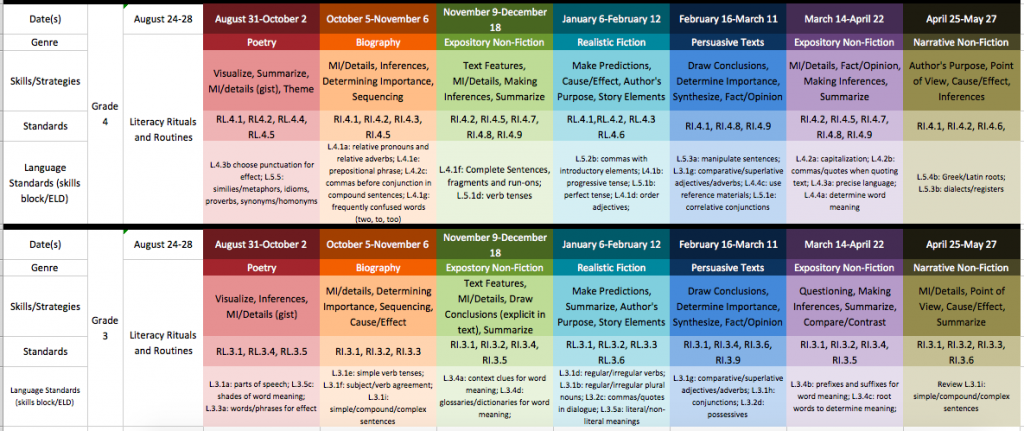 ---
MATHEMATICS

At Smith, we teach mathematics in a format that provides students with explicit, direct instruction, as well as ample opportunities to practice and discover math for themselves! All students participate in a math mini-lesson for 30 minutes at the outset of each lesson. Next, they rotate through a serious of rotations that are tailored to meet students' individual needs and levels. Each student also meets in a small group with the teacher daily for 20 minutes. This is all possible because we have a 90 minute math block, math interventionists to pull small groups, and the support of Denver Math Fellows. 
In the intermediate grades (2nd-5th), Smith uses the DPS supported EngageNY as our primary resource. Primary classrooms (K-1st), teachers use Everyday Mathematics. A responsive computer program, STMath, is utilized at all levels to provide additional practice, reinforcement and extension activities for all learners each week! 
Stay tuned, as DPS is in the process of adopting a new mathematics curriculum for the 2015-2016 school year!